Our FSU faculty, librarians, instructional support staff, distance learning experts, and technology support specialists are all committed to helping you succeed online. The tools and tips provided below will not only help you stay connected to your instructors and classmates, they'll help you maximize learning at a distance.
Step 1.
Technical Requirements
First, make sure you have the basic hardware and software needed to learn online:
laptop or desktop computer with the latest operating system installed,
a reliable, high-speed internet connection like DSL, cable, or WiFi,
latest version of Mozilla Firefox or Google Chrome,
virus protection software,
headphones, a microphone, and a webcam (recommended), and
additional hardware and software as requested by your instructor.
See Technology Recommendations for Learning Online for a complete list of recommended technology. Students experiencing financial hardship related to acquiring the appropriate technology should contact Case Management Services at casemanagement@fsu.edu. For free WiFi available through FSU, use the FSUSecure and Eduroam networks.
---
Step 2.
Essential Tools, Helpful Apps & Cybersecurity
Next, get acquainted with the tools you need to learn online. Click on the links below for more information, and don't forget your FSUID and password. You'll need them to access most tools and applications featured.
Share group reports, presentations, and other temporary files with NiFTy, FSU's file transfer service. (Files remain available for up to 20 days.)

Store documents in the cloud and collaborate and edit documents in real time with classmates. Once signed in, click the app launcher icon in the top-left corner.

Watch online video tutorials to help you master new software required for online learning.
Get Acquainted with Canvas
Watch the "5 Quick Tips" video below to make sure you know how to navigate your assignments in Canvas.
Beware of Scammers
Follow FSU's recommended cybersecurity practices and stay alert to phishing attempts and online scams.
Think before you click links in emails or online
Never share your password with anyone
Lock your computer when you are not using it
Don't fall for online job offers that sound too good to be true
Report phishing emails by forwarding them to abuse@fsu.edu
Find more cybersecurity dos and don'ts on the ITS Ten Security Tips for Students webpage.
---
Step 3.
Success Strategies
Learning online can offer great flexibility, but it's a different experience than the face-to-face classroom. Don't underestimate the need to stay organized and plan your time wisely. Getting a handle on a few skills will make your online learning experience more successful.
Learning online takes motivation, self-direction, and a realistic knowledge of your personal learning preferences and abilities. We recommend enrolling in the self-paced Learning Online @ FSU course in Canvas. It's non-credit bearing and full of information to help you succeed in the online learning environment.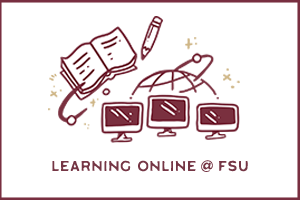 If you've never used Canvas before, this is a good place to learn all the basics. Self-enroll and get started as soon as you're ready. You'll also find helpful information in our Tips for a Better Canvas Experience article.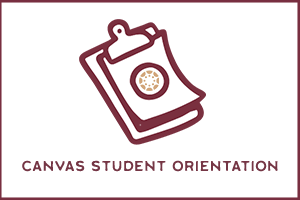 Regardless of your location, you can access library resources remotely. You'll find databases, tutorials, workshops, and other helpful resources in the FSU Libraries for Students Canvas org site (all students are enrolled automatically). For recommended research resources and ways to connect with your librarians, look for "Library Tools" in your Canvas course navigation.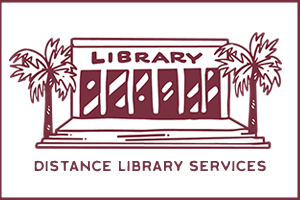 Need online learning accommodations, like assistive technology or accommodated testing? Contact the Office of Accessibility Services (OAS), formerly the Student Disability Resource Center, and don't forget to work with your instructors to make sure they're aware of your registered accommodations.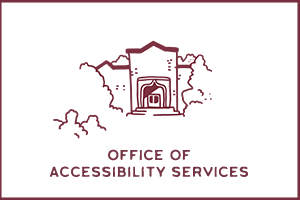 In addition to the strategies above, make sure you communicate while learning online. Pay attention to your course syllabus and announcements from your instructor. We all want you to be successful, and attending your online classes and communicating when you're struggling is an essential component of that.
---
Frequently Asked Questions
What do I do if I don't have access to a computer or internet?
Students experiencing financial hardship related to acquiring the appropriate technology, should contact Case Management Services at casemanagement@fsu.edu. The FSUSecure network is available on campus, and Eduroam free WiFi spots can be used at hundreds of locations around the globe.
---
Can I get learning accommodations in an online class?
Yes. Students needing learning accommodations should register with the Office of Accessibility Services (OAS). Once you've registered with OAS, we encourage you to work with your instructors to make sure they're aware of your accommodations. If you have any questions, contact OAS for further assistance.
---
How do I get library services when off campus?
Students can access most resources and many services using the library website. Visit the FSU Libraries Off Campus Access page for information on accessing databases, articles, journals, eBooks, and other services.
---
How do I access LinkedIn Learning content?
If your instructor has added LinkedIn Learning content to your Canvas course, you'll be able to find the LinkedIn Learning content within your Canvas course site. It's most likely in a Module in your Canvas course. If you have trouble finding the content, please contact your instructor to clarify where the LinkedIn Learning content is located.
If your instructor has not added any LinkedIn Learning content to your Canvas course, don't worry – you can still access LinkedIn Learning resources. Simply go to FSU's LinkedIn Learning page, click the "sign in" button, and log in with your FSU credentials.
---
How do assignments, tests, and final exams work for students attending class online?
For assignments that are usually submitted in the classroom, instructors might choose to use the Assignments feature in Canvas for turning in assignments online. Other assignments like PowerPoint presentations, interviews, role plays, and performances that are traditionally presented in the classroom, will be arranged by your individual instructors. Some may be shared and presented in Zoom meetings, while others may be recorded and turned in via the Canvas Assignment link. Watch for your instructor's announcements, including information on proctored testing (if required). See the FSU Testing Center website for more information on proctored testing.
---
How do I access tutoring services?
What do I do if I'm feeling stressed and overwhelmed?